ALICE NICHOLAS
Football Enthusiast
Author

Alice Nicholas is a football enthusiast, devoted wife and mother. She attributes to her father and husband her initial interest in football, but credits her three sons for giving her the desire to learn the fundamentals of the game and its language and to write a simple book that a novice can understand and enjoy. She and her husband reside on their family farm outside of Jackson, Mississippi.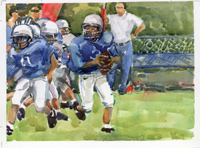 "You're not raising boys,
you're raising men."
Mrs. Jane Baird
Mother of five sons